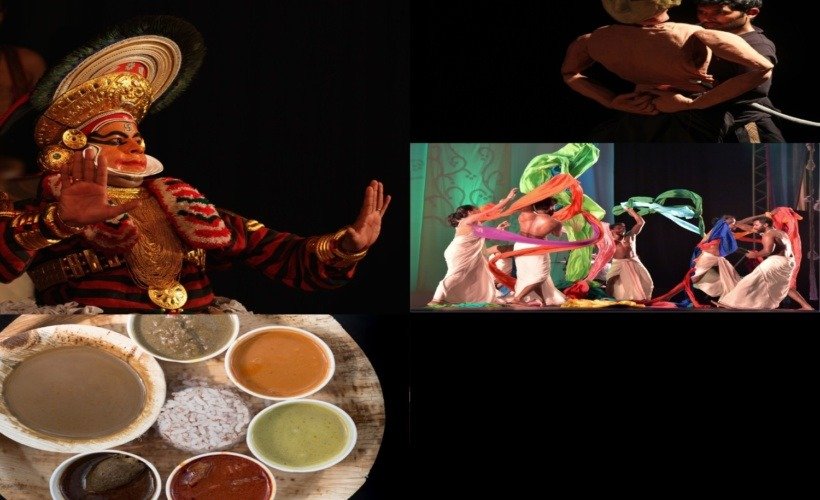 Think colour, swashbuckling artists, impassioned photographers, avant-garde musicians, and high-strung performers… Advocating alternative practices of art, invoking mystery and disconnection for the viewer, and inspiring dialogue through artistic form is what defines the Serendipity Arts Festival. 
In the works since 2015, the Serendipity Arts Festival (organised by the Serendipity Arts Trust), aims at marrying disparate fields of art, music, theatre, dance, food and craft. This year, the serendipitous soiree is all set to once again traverse the unconventional and raise the bar set by the previous two editions even higher.
As Goa gears up for the third edition of the Festival, the man behind the scenes, the dynamic Sunil Kant Munjal of the Hero Group, who has heroically championed the cause of the arts speaks about creating a platform that inspires tangible change across the length and breadth of the country's cultural landscape, cultivating new standards of artistic excellence and reflecting India's creative and vibrant spirit, writes ANNA FERNANDES
Set against the backdrop of Panjim's concrete topography and riverside charm, the Serendipity Arts Festival is a heady kaleidoscope of arts, culture and passion, that aims at creating tangible change across the country's cultural spectrum by engaging the public and increasing awareness of how art can impact society, whilst generating interest in public art projects across India.
An initiative of the Serendipity Arts Foundation, founded in 2016 by Sunil Kant Munjal, the Festival's third edition is focused on fostering cultural development, supporting emerging artists across South Asia and is unique as the only arts event in the country that unites the creative disciplines.
A business promoter, an institution builder, a social entrepreneur, an angel investor, and a thought leader, Sunil Kant Munjal of the Hero group has always stood by the ideals of corporate philanthropy and investing for the arts. Currently Chairman of Hero Motocorp, an enterprise which has interests in insurance distribution, steel-making, real estate, and corporate training, Munjal conceptualised the idea of 'Serendipity' as a Munjal-initiative aimed towards addressing the social, cultural and environmental milieu of South Asia.
In the words of Sunil Kant Munjal, "We have always held strong views on nourishing and strengthening India's rich and diverse cultural roots and connecting these to the country's future. We wanted a platform for the arts that could bring many artists, initiatives, and patrons together to reassert the value in the arts. The Serendipity Arts Festival was planned as an interdisciplinary event. The idea was to promote craftsmen, artists, and performing artists in a relevant and contemporary ambience along the Mandovi river in Panjim. The objective was to challenge traditional boundaries and redefine engagement with the arts." Organised with this idea in mind, the Festival serves as a platform for eminent and emerging artists to showcase their work and build collaborations.
Serendipity Arts Foundation, a Munjal initiative for creativity, is a not-for-profit arts and cultural development foundation that fosters the cultural development and supports emerging artists across South Asia. The Foundation's programmes are designed and initiated through innovative collaborations with partners across a multitude of fields, impacting education, promoting social growth via community development programmes, and exploring interdisciplinarity across the arts.
The Foundation's primary initiative and largest project, Serendipity Arts Festival is a multi-disciplinary arts event held annually every December in Goa. Curated by a panel of eminent artists and institutional figures, the Festival is a long-term cultural project that hopes to instigate positive change across the arts in India on a large scale. Serendipity Arts Festival's intensive programme of exhibitions and performances is energised by spaces for social and educational engagement.
The first two editions of the event transformed Goa and received an extremely positive reception from the public, redefining perceptions of the arts whilst also energising arts production, awareness and practice across the country. Today, the Festival is an integral part of Goa's annual cultural calendar. Choosing India's sunshine state to be the centre of activities for the Festival was inevitable. "Goa is a cultural melting pot. From the beautiful historic buildings to the layered history, Goa's heritage lends itself to both tradition and modernity. Panjim is a jewel that many people miss as they drive north or south, but the heritage of Panjim and Goa sets the perfect canvas for showcasing the arts. So, this was the perfect location to host a cultural intervention," says Munjal. Since its inception, the Festival has accumulated a rich database of both national and international creative energies and partnerships. As an eight-day long event, the Festival is a platform for multidisciplinary collaboration and cultural innovation, and in two years, has commissioned over 70 new works across the visual arts and performance.
In its previous two editions, the Festival seamlessly brought together more than 1300 artists and artisans for 120 projects across seven disciplines of art and culture, resulting in a footfall of over 400,000 creating significant impact and contributing to the cultural regeneration of Panjim. "Since 2016, the Festival has grown in leaps and bounds, not only in the scale and number of projects, but also in expanding our universe. Last year alone, at the Festival we had three lakh footfalls and a digital outreach of over 17 million. In addition to people attending, the Serendipity Arts Festival is also about restoring community spaces. For example, the Festival has led to the opening up of the Adil Shah Palace and renovating the PWD complex. Both these buildings have brought back arts back to the public. In a very short period, the Festival has started conversations, bridged boundaries, and initiated collaborations between artists, private patrons and institutions," he says.
Sunil Kant Munjal
This year, the Festival is upping the ante, promising to be bigger and better. The third edition will run from 15th to the 22nd of December, with over 90 dynamic projects highlighting India's rich traditions of music, dance and theatre, alongside culinary arts, craft, and visual arts exhibitions. Serendipity Arts Festival will take place across 10 venues, energising Goa and transforming Panjim into a vibrant cultural space with multiple exhibitions, performances and immersive arts experiences.
"We will have over 90 projects in all. There will be 67 performances in music, dance and theatre, and almost 50% of the content will be commissioned. The scale and the level of creativity will be significantly enhanced from even the previous years which were already seen as being quite special," says Munjal.
This year's programming will include 1500 artists and continues to honour the culture and the arts of the Festival's host city, with special events to celebrate the 175th anniversary of Panjim redefining heritage sites and architectural icons through creative and community-focused projects. Showcasing performative, visual, and culinary practices, this year's Festival has been designed to create a balance between artistic rigour and accessibility. Projects will unite art forms from different parts of the country, diluting regional divisions and encouraging cross-cultural exchange.
Highlights of this year's event include theatre performances designed for children, large-scale public installations in the visual arts and photography, a variety outdoor and evening music performances, culinary workshops and tastings, as well as a range of specially commissioned projects across disciplines which will be exclusive to Serendipity Arts Festival 2018.
Projects will be further activated by diverse collateral programming including panel discussions, children's programmes, and workshops for the differently abled. These initiatives are an integral part of the Foundation's key mission of making the arts accessible and developing arts audiences both in numbers and in diversity.
Unique activations in the core disciplines of Craft, Culinary Arts, Music, Photography, Visual Arts, Dance and Theatre, intend to invigorate dissipating and marginalised traditional art forms, whilst the more contemporary projects will address significant social issues. This year's event will also have increased international participation aimed at furthering global dialogues with Indian culture.
This year's Festival curators include, Rahaab Allana and Ravi Agarwal in Photography, Ranjit Hoskote and Subodh Gupta in Visual Arts, Rahul Akerkar and Odette Mascarenhas in Culinary Arts, Leela Samson and Ranjana Dave in Dance, Atul Kumar and Arundhati Nag in Theatre, Aneesh Pradhan and Sneha Khanwalkar in Music, and Annapurna Garimella and Rashmi Varma in Craft.
The 90 projects this year will be accompanied by a series of Special Projects including St+art curated by Hanif Qureishi, Out of Turn curated by Asia Art Archive and Meenakshi Thirukode and a Film Programme by Sabeena Gadihoke.
"Our vision is that the Serendipity Arts Festival becomes a catalyst for change – for artists, the community, the public and the country, impacting daily life and ultimately changing the way we interact and respond to creativity and the arts across demographics. The Festival is a platform for underrepresented and emerging artists, and also presents the curatorial vision of some of our country's most esteemed cultural practitioners. We are honoured to present artists, artisans, indigenous and folk-art forms, performers and other creative practitioners on one stage," says Munjal.
Today, reviving dying cultures of India by providing a correct platform to artists is the need of the hour. As our art and craft traditions flicker for want of patronage, Munjal is doing his bit towards safeguarding the arts, with the Foundation. Speaking about some of his larger goals in this regard, he says, "We have four distinct aims: to revive India's traditional skills and crafts, to enhance the abilities of artisans, artists and traditional performers, to garner institutional support and private patronage, and to enhance India's soft power. We also want to expose more and more young people to the arts to raise awareness and, hopefully, interest and their involvement."
The arts have been an important part of India's cultural heritage and enjoyed royal patronage earlier. Munjal believes that the government, as well as corporates, need to step in to save the arts. He says, "To begin with, the government must actively work with citizens and Corporate India to make the arts sustainable. Many more self-help groups and co-operatives in the areas of arts need to be promoted in rural areas.
These must encourage development and upgradation of skills. Art patronage, especially in the PPP mode must be encouraged with budgetary support. India also needs a truly facilitative trade policy that promotes culture. Creating a conducive policy sans red tape will make it much easier to host world-class art and cultural events in the country. Finally, multiple ministries and government departments currently handle different aspects of art and culture; their efforts need to become more cohesive."
Munjal adds, "What the government does is admirable but that's not enough. There is a need now to have many more patrons. While some individuals, families and corporates are doing their bit, the size and scale of our country, as well as the cultural diversity of our arts and crafts traditions, demand a bigger involvement. So, our objectives also include encouraging those who want to organise something similar themselves."
While the Festival is a one-time event, Munjal has taken up the cause of arts and society throughout the year. Through the Serendipity Arts Foundation, several educational programmes and residencies for artists have been launched. Munjal has also engaged in philanthropy under the banner of the Hero Group. The enterprising businessman says, "For many decades, Hero has been involved in charitable hospitals, schools, colleges, medical camps, vocational and skills training for communities around North India. My father, and then I have been involved in leading Dayanand Medical College and Hospital, one of India's largest hospitals based in Ludhiana; we have also promoted BML Munjal University in the National Capital Region that has one of the world's largest experiential learning programs. Hero Enterprise also supports start-ups that focus on digital learning, community transportation, healthcare, women empowerment and children's education. Plus, Hero Enterprise has funded impact investment projects that have taken an entrepreneurship-based approach to socio-economic challenges"